Accessories
Motocaddy Repair Center
---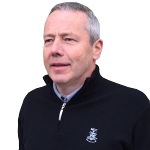 As an authorised Motocaddy Sales Centre Chris Steele Professional Shop stock the full range of Motocaddy product for you to view, handle and compare in store. Before buying an electric trolley we would recommend that you ask yourself the following questions to help you make your decision:
Q1. What is my budget?
A1. The Motocaddy range can be purchased from us, begins for as little as £289 complete with battery, charger and a 1 Year warranty with the full back up and support from our onsite Service Centre. (Please scroll down further to read more!)
Q2. Is space limited for transporting my trolley - Will the trolley fit in my car boot?
A2. The M1 trolley "breaks down" into three components and is best suited where transportation space is at a premium but we will look at all options with you and we can take the trolley to your car to "make sure it will fit" before you buy.
Q3. Am I looking for maximum reliability from my trolley over a long period of time?
A3. Motocaddy is the world leader in golf cart technology and their product is only supplied and supported by Authorised Approved Centres and not by High Street retailers or DIY outlets.
Q4. Do I regularly play on hilly or flat course?
A4. On a hilly course we would recommend that you consider the All-Terrain trolley with the 16cm wider wheelbase and pneumatic tyres.
Q5. Do I regularly play 36 holes of golf in one day?
A5. For regular 36 hole play why not consider an upgrade to a 36 hole (30A-hr) battery. Please scroll down to read more about the batteries.
Q6. What happens if my trolley goes wrong?
A6. When you buy a trolley from us you will always have our full support and back up, we are open 364 days a year. Before you take delivery your trolley will have been removed from its box and undergone a pre-delivery inspection and test in our workshop, your battery will be "activated" (Please scroll down for more details!) and the warranty will have been registered on your behalf. In the unlikely event of a fault developing on your trolley we will make available to you, free of charge, a loan model whilst we carry out the repair so you can continue playing without a hitch.
Q7. Can I try the trolley before I buy it?
A7. In store we have available the full range of Motocaddy trolleys and these can be made available for you to take onto the course and "try before you buy"
Q8. Are 2nd users or reconditioned trolleys available?
A8. As an approved Service Centre on occasions we receive direct from Motocaddy trolleys for reconditioning to make available to our Customers at prices below those of new trolleys. In general these trolleys are less than 6 months old and carry a 6 month warranty with our full back up support.
From time to time our Customers circumstances change and they upgrade to a new trolley and we will take in their existing trolley as a part exchange deal. This trolley will then undergo a full test and service in our workshop and will be made available for sale to our Customers. Special offers for reconditioned and 2nd user trolleys are advertised in store and in our weekly newsletter.
Q9. What accessories are available for my trolley?
A9. We offer the full range of Motocaddy accessories including seat, umbrella holder, score holder and drinks holder. These accessories and all other Motocaddy accessories will attract a 10% discount when purchased with a new trolley from us and we will also fit them for you free of charge - definitely not a DIY kit! We want you to concentrate on your golf game and not on your trolley.
In summary when you buy a trolley from us you will receive our full support and back up from the time you choose the model through to delivery and onward to after sales service.
You may well find a similar trolley at a slightly cheaper price but you will not get a better deal than you will from Chris Steele Pro Shop at Minchinhampton GC - the deal is not over when you have made the purchase. In store, using our extensive product knowledge and experience, we help you to answer these questions based on the following initial guidelines:
Batteries:
At Chris Steele Professional Shop we stock the battery to suit your trolley and budget. We offer a 36 hole (30 A-hr) battery for two rounds in a day or a standard 18 hole (26 A-hr) battery.
All batteries supplied by us are designed specifically for use on golf trolleys where continuous cyclic operation without re-charge is required. The batteries are designed to reach a level of discharge after one round (or two) of golf such that they can be re-charged to maximum capacity in 8 - 10 hours. If you do not regularly play 36 holes we do not recommend that you purchase a 36 hole battery. It is a misconception that a 36 hole battery will perform better and last longer when used only for 18 holes of play only.
When a battery is shipped from the manufacturer it is "dormant" and requires to be activated to achieve maximum life and reliability, this typically means playing only 9 holes of golf before re-charging, repeated on three consecutive occasions before playing a full round. In our workshop we have a computerised facility to carry out this activation for you allowing you to go straight out to enjoy 18 holes of golf. If the battery is taken straight from the box and not correctly activated this could seriously limit the life cycle.
The function of your battery is based on a chemical reaction and in the rare event that your battery does not last for the predetermined number of holes we will carry out a full test, again using our computerised facility, and report to both you and the manufacturer on your behalf. In such circumstances it is preferred that at the same time as we test your battery we carry out a test on your battery charger as this can sometimes be the cause of a failed battery.
Due to the cyclic nature of the battery design your battery must be charged by a "matched charger" - a car battery charger is certainly not suitable for this application and if used will cause permanent damage to your battery. Using the correct charger will allow you to leave your battery on charge all the time you are not playing - finish your round, put your battery on charge and forget about it until you are next playing again.
Following these few simple guidelines will ensure that your battery should give you trouble free operation.
All batteries supplied by us are ready to go and complete with either a carry bag or carrying sling and a 1 year or 50 rounds of golf warranty.
Connections can be supplied and fitted to suit all makes of trolley or alternatively we can fit your own connections onto a new battery free of charge.
Repair And Service:
Chris Steele Professional Shop is a Motocaddy authorised and approved Sales, Service and Repair Centre and our onsite engineer has received extensive training on the full range of Motocaddy and Hill Billy trolleys at their factory in Kent. We are one of the first service centres in the UK to receive approval to carry out work on the new Freeway II trolley.
As with all electro-mechanical equipment we accept that things can and will go wrong. Our promise is to help you to minimise the risk of this happening out on the golf course and disrupting your game.
Your trolley should, like your car, have an annual service. Motocaddy recommend a schedule of work for this service as detailed below.
Check general running - Clutches, Wheels, Gearbox, Motor
Check all switches - Replace plastic cover FOC
Check General Stability - Rivet movement within the frame
Check Wheels - Remove and lubricate
Check all electrical connections
Check motor operating and stalled current drain

A service can be carried out in our workshop by appointment either while you enjoy a cup of coffee in the Clubhouse or to a time agreed before your next game.
Our policy is to hold in stock all consumable and more widely used spare parts with access to the Motocaddy warehouse for major components which are normally delivered to us 48 hours from time of order.
In the unlikely event of us having to carry out a repair to your trolley we will always in the first instance diagnose the fault to the best of our ability and give you an estimate of the cost of the work for your agreement before we start the repair. Repairs carried out within the warranty period of the trolley will of course be free of charge.
Our workshop diagnostic testing equipment includes:
Running current meter
Stalled current meter
"Battest" computer software
Controller simulator
Battery Charger Test Module
For full details of the Motocaddy range click here